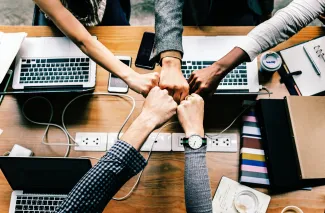 Affiance Financial has long partnered with BestPrep, an organization that helps students build business, career, and financial literacy skills. Years ago, Principals Steve Lear and Andy Fishman helped start the organization's Financial Matters program, which teaches high school students financial literacy skills. But this spring, the Affiance team partnered with BestPrep in a new way, by serving as eMentors!
BestPrep's eMentors Program is an email mentoring partnership between professionals and students. Our team was partnered with a 12th-grade DECA class from Champlin Park High School. DECA is an international organization that prepares emerging leaders and entrepreneurs for careers in marketing, finance, hospitality, and management. Mentors weren't limited to Financial Planners. Members of our Marketing, Client Service, and Administration Teams all got in on the fun. In fact, so many of our team members wanted to participate, we had to turn some mentors away!
The eMentor program started in mid-April. Students emailed their mentors each week, based on topics suggested by their teacher. Some of the topics our mentors discussed included interviewing advice, job searches, and corporate culture. After our mentors got to know their students via email, they got to meet them in person at our eMentor Meet and Greet. The students visited our building, chatted with their mentors face to face, did a team building exercise, and toured our office. Meeting the students was very energizing for our team, and helped motivate us to finish out the program strong.
We all have people who have encouraged us in our careers. We are grateful to BestPrep for giving us the opportunity to do the same. And, we wish all the best for our students after graduation!