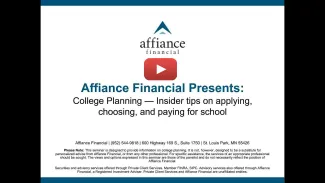 Affiance Financial Presents: College Planning — Event Recording from September 24, 2018
7 Insider Tips to Navigating the College Search Process, a Presentation by Cozy Wittman​
College Planning Panel Discussion
Meet the Panelist:
Cozy Wittman of College Inside Track — Education and networking are a way of life for Cozy. She has spent her career educating adults, helping people think outside the box and connecting people with common interests. At College Inside Track, she runs both the parent events as well as professional development for those who work with families with HS students.
Cozy is excited to continue to extend the reach of College Inside Track connecting with organizations and families interested in learning more about the complex college process.  She is a mom of 5 kids with very different goals for college, so she is no stranger to the college search challenge.
Danielle Jastrow of Southwest High School and AchieveMpls — Danielle is a licensed school counselor who has worked at both middle and high schools in urban and suburban Twin Cities school districts since 2003. She played an integral role in the creation and implementation of My Life Plan, the post-secondary planning graduation requirement for Minneapolis Public Schools (MPS). In 2013, My Life Plan was named the Innovative Program of the Year by Hobsons, the parent company of Naviance.
In 2017, Danielle was honored as the first-ever recipient of the Minnesota Association for College Admission Counseling Student Service Award, recognizing her dedication and support of students. She currently serves on the University of Iowa Out-of-State High School Advisory Board. Danielle received her a B.A. in psychology and sociology and certificate in criminal justice from the University of Wisconsin-Madison, and a M.A. in education psychology from the University of Minnesota.
Keri Saltzman Bahar of KSB College Consulting — Keri Saltzman Bahar founded KSB College Consulting over ten years ago to continue her extensive work in higher education and college admissions. Keri earned her Bachelor of Arts degree from Bowdoin College and Master of Arts degree from The University of Iowa.
Her first taste of admissions work was as a Senior Interviewer and tour guide at Bowdoin. Since then, she has worked for the ACT organization, served as the Chicago Chair for the the Bowdoin College Alumni Schools Interviewing Committee, and is an adjunct faculty member at the University of Minnesota and George Washington University. ​
She welcomes clients from across the United States and Canada and offers a variety of consulting services to meet any student's needs. Keri's approach is personal, professional, confidential, and yields meaningful results. 
Margaret McKibbin of Achieve Academics — Margaret has her M.A.Ed. in Counseling from Wake Forest University and a B.A. in Political Science from Davidson College. She has worked for colleges and universities for over 20 years in a wide variety of roles. She really enjoys working with students to help them be more self-aware and prepared to succeed. To borrow a phrase from her son, she "geeks out" over college brochures, websites, and tours. Former students have said that Margaret was a great advocate, was resourceful and helpful, and that she was an important part of their journey. One of her strengths is taking a complicated, (probably) overwhelming project and breaking it down into manageable steps. She likes doing that when researching and applying to colleges and when conducting an internship/job search.
Including Affiance Financial's Andy Fishman, Steve Lear, and Seth Meisler.
Please Note:
This seminar is designed to provide information on college planning. It is not, however, designed to be a substitute for personalized advice from Affiance Financial, or from any other professional. For specific assistance, the services of an appropriate professional should be sought. The views and options expressed in this seminar are those of the panelist and do not necessarily reflect the position of Affiance Financial.