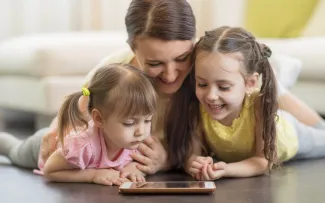 Apps Can Make Teaching Your Kids About Money More Fun
September is a great time for a fresh start. After summer's fleeting nature permits — no, DEMANDS — a break from drudgery, September feels like the perfect time to buy a new planner, write a to-do list, or tackle a project you've been avoiding. If one of those projects is teaching your kids about money, we have an idea that might help. Why not give them what they are already begging for AND teach valuable financial literacy skills at the same time — by using an app on your phone or tablet. Apps that teach your kids about money come in two general categories: Financial literacy games and budgeting apps designed for kids.
FINANCIAL LITERACY GAMES
Savings Spree (Apple; $5.99)
Age Rated 4+; Recommended for Ages 7+
Savings Spree is a game show hosted by Money Savvy Pig. In the game's six rounds, kids work to earn imaginary money and then make decisions about what to do with that money. They can choose to save for short-term goals, spend, donate to others, or invest for long-term goals. Saving Spree helps kids see how small costs add up over time. For example, it teaches that spending $1.50 a day on soda doesn't seem like much, but adds up to $547.50 a year. The app also includes a "Practice Session" to learn more about financial literacy concepts. Savings Spree earned a Parent's Choice Award for Mobile Apps.
Star Banks Adventure (Apple, Free)
Age Rated 4+; Recommended for Ages 9+
Star Banks Adventure uses puzzles and quizzes to teach basic financial literacy concepts such as saving, investing, asset allocation, and inflation. Kids join alien guide Odal on a space adventure to save the planet Polaria from drowning in financial chaos. Sound a bit hokey? Perhaps. But all your 7-year-old will care about is that they get to play a game on your phone.
BUDGETING APPS
PiggyBot (Apple, Free)
Age Rated 4+; Recommended for Ages 6+
PiggyBot teaches the classic "Save, Spend, Share" allowance concept, except instead of physical jars or envelopes, a kid's virtual allowance (like an IOU for money in your wallet) is stored and divided into the three categories in the app. PiggyBot goes a step further, by helping kids with goal setting. It automatically calculates how long it will take to reach a goal and incorporates pictures to help motivate savers.
Bankaroo (Apple and Android; Free)
Age Rated 4+; Recommended for Ages 6+
Created by an 11-year-old, Bankaroo is a virtual bank that helps kids manage their allowances, gifts, and chore money. This app teaches basic money-tracking skills by allowing kids to enter money they receive, set savings goals, and report their spending. Bankaroo is intended to encourage kids to take control of their finances at an early age — with the help of their parents.
FamZoo Family Finance (Apple and Android; Free)
Age Rated 4+; Recommended for Ages 13+
FamZoo Family Finance ups the ante by bringing real money into the equation. Kids are given a prepaid card which their parents fill. All transactions are recorded through the app. The goal is for kids to learn basic money management skills, such as how to budget and how to save, in a firsthand yet controlled environment. The app also offers some great financial literacy lessons. For example, it allows kids to split payments into several accounts, letting them withhold savings before spending (a.k.a. pay yourself first). And, it allows parents to define and automatically pay interest on kid's savings, teaching them the power of compound interest.
If you have kids or grandkids begging to play on your phone or tablet (or older kids or grandkids glued to their own devices), why not give one of these apps a try. But don't forget the most important part — to talk to your kids about what they are learning. If you use these apps to start a conversation about money, you just might be laying the foundation for a path of lifelong financial health and well-being.
The views represented are not meant to be construed as advice. Moreover, no client or prospective client should assume that this content serves as the receipt of, or a substitute for, personalized advice from Affiance Financial, or from any other professional.