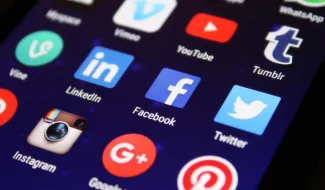 By Steven Schoenberger
I am a big fan of Google, and whenever they ask me to review my account information, they win me over again. What began as a search company has become a digital platform for creating, accessing, preserving, and eventually transferring much of my digital life.
Can you see where this is going? Google is not an attorney or financial planner, but they are attempting some digital estate planning for their users.
As a pretty heavy user of multiple Google services, a financial planner, and a former estate planning attorney, I really appreciate this opportunity. My Google account is rife with old and new personal information. As of October 2017, I have more than 11.5 GB of data tied to my Google account, going back over 13 years. Granted, a lot of this is old email of little importance, there are many letters, pictures, and documents which I would want my friends and family to be able to access if for some reason I could not.
Your digital life may be similar. Perhaps your pictures are on Instagram or your videos are on Facebook; maybe you prefer Apple's iCloud or Dropbox as your repository of digital "stuff." In any case, you likely have a prominent and expansive virtual identity, locked behind a mosaic of usernames and passwords.
Just like your financial assets, it can be hard enough to manage these digital accounts during your lifetime. But after you "join the big social network in the sky," it becomes virtually impossible for others to access and deal with all of your online accounts without some kind of guidance or assistance. Google, and a few other companies, are clearly trying to help their users navigate this issue, but I think creating a more robust plan is still in order.
The reason that I would not advise relying on technology companies alone, is that while they are aware of this issue, fixing it is not their primary business. If a tech company is losing money trying to provide a trustee-type service, it may simply abandon it. In addition, this is a totally new area they are venturing into. Probate and trust law, which primarily address the transfer of tangible assets, have taken centuries to evolve and are still an imperfect system. It is not clear whether Google, or any other company, will be more effective at solving this problem.
Further, even if a Google successor trustee is granted access, and can divvy up your account information appropriately, separating the wheat from the chaff, and isolating the sentimental files and confidential information will certainly remain a challenge. For every great picture, there are dozens of worthless snaps. For every caringly written email, there is a chain of worthless banter, a bevy of outdated newsletters, and a pile of spam to comb through.
Since Google's system seems far from perfect, I thought it might be helpful to share my own experience and personal digital estate plan.
My Google Succession Plan
I named my wife, Louise, as my Google account successor trustee. If there is no activity on my account for three months, Google will send me a notification, and if I do not respond, Google will provide access to my account to Louise. (Alternatively, you can choose to have Google permanently delete all of your account information).
Selecting my wife was not hard for me. I have no secrets to keep from her. It certainly helps that we have been married for almost as long as I've had my Gmail account. There are no dating site chat logs, love letters to old girlfriends, or other NSFW (not suitable for wife) content. Our finances are totally combined, I have always maintained my Gmail account as personal so it contains no confidential work emails, and there are no other skeletons in my email closet.
Naming my wife was the easy part. Then, after reflecting a bit, I came across a couple of issues which I, personally and as a financial planner, had with the process.
First, do I need a successor to Louise? Is there anyone else I am comfortable enough with, such as my parents, children, or a friend, to give them full access to my account? I still want to share the pictures and some of the emails and documents, but maybe not everything.
Second, I had to write a letter to my trustee. This was essentially my "honey, if you're reading this, it means I am dead," letter. Since I deal with these types of conversations on a regular basis, I did not have a problem with this. But, I know it could be a stumbling block for many.
Third, our online lives shift extremely quickly. While we advise clients that an estate plan may be good for as long as a decade, in the digital world even five years can be an eternity. What is a realistic timeframe for reviewing and updating a digital estate plan?
Fourth, what if you have digital assets with meaningful monetary value? For me, this is not an issue, my photos and documents are merely sentimental. But, if you have digital creations, music, artwork, or literature that have real value, how does that get transferred? Certainly naming a Google trustee does not necessarily mean that that individual alone should benefit from those assets, does it?
Finally, even if you devise a robust plan for Google, what about every other account that you have? I use LastPass, a password manager, for maintaining my login information to most of the other sites I use. If Louise has my LastPass master password (or the ability to recover it through my Gmail) she can then effectively access almost all of the other online portals I use. But again, access is only one piece of the digital estate puzzle.
Like so many areas of planning, there are not as many elegant solutions as we might hope for, and as a result each of us must take it upon ourselves to devise a plan to deal with these accounts. In the past we may have been able to put our heads in the sand and ignore the cloud. Today, however, our digital lives are simply too big and too important to leave to the ether. If you'd like help devising and implementing a plan of action for your digital estate, contact your Affiance Financial advisor today.
Sources:
http://estate.findlaw.com/planning-an-estate/estate-planning-keep-track-of-passwords-access-keys-and-pins.html
https://www.everplans.com/articles/the-value-of-digital-assets-and-how-to-keep-track-of-them-all
The views represented are not meant to be construed as advice. Moreover, no client or prospective client should assume that this content serves as the receipt of, or a substitute for, personalized advice from Affiance Financial, or from any other professional. Affiance Financial is not an attorney and no portion of this content should be interpreted as legal advice.
Securities and advisory services offered through Private Client Services. Member FINRA, SIPC. Advisory services also offered through Affiance Financial, a Registered Investment Adviser. Private Client Services and Affiance Financial are unaffiliated entities.