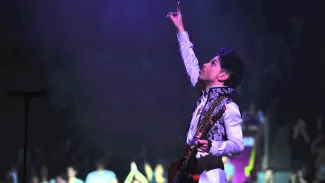 Prince's Legacy - Lessons learned from the music legend's lack of estate planning
by Steven Schoenberger
Dearly beloved
We are gathered here today
To get through this thing called life
—Prince, "Let's Go Crazy"
Prince's death was shocking, especially to those of us in Minnesota. Another shock came right after, when we learned that Prince had died without a will.
The tragedy of his passing has been discussed ad nauseam, in the media and across the music industry; the fact that he neglected to do any estate planning has also gotten its fair share of coverage. But, what most of these discussions leave out is how this failure to plan diminishes Prince's legacy.
How can you just leave me standing?
Alone in a world that's so cold? 


—Prince, "When Doves Cry"
Estate planning is important for a lot of reasons—to alleviate the burden on our heirs, to ensure a smooth transition from one generation to the next, to minimize tax burden, etc.—but what many clients fail to realize is that estate planning is also an opportunity to perpetuate a legacy.
Prince, in this case, is no exception. During his life, Prince was involved in, and connected to, many causes. In recent years, he was instrumental in the Black Lives Matter movement, involved in many youth-based charities, and a supporter of Urban Farming, PETA, the Elton John AIDS Foundation, the HALO Foundation, the Jazz Foundation of America, the Edith Couey Memorial Scholarship Trust Fund, and the Goss-Michael Foundation, to name a few. He has also used his music to be an advocate on a number of issues, with songs as recent as 2015's "Baltimore" and as far back as 1981's "Ronnie, Talk to Russia."
Prince, however, may be most remembered for his progressive gender-bending persona. He was making it acceptable to be a non-conformist since he entered the scene over three-and-a-half decades ago. He also likely deserves credit for bringing the idea of gender identity issues to the masses.
I'm not a woman
I'm not a man
I am something that you'll never understand
I'll never beat you
I'll never lie
And if you're evil I'll forgive you by and by
'Cause you, I would die for you, yeah
Darling if you want me to
You, I would die for you
—Prince, "I Would Die 4 U"
These lyrics describe a familiar phrase we use to show commitment—"I would die for you." The irony is that by failing to prepare a will, or do any estate planning, all of those causes, organizations, and passions Prince was committed to during his lifetime will be completely neglected as a result of his untimely and unexpected death.
Prince's death is not tragic merely because a young, 57-year-old artist died from a possibly avoidable overdose, but because all of the causes he invested in during his lifetime are, without an estate plan, essentially forgotten.
I never meant to cause you any sorrow

I never meant to cause you any pain

I only wanted one time to see you laughing

Laughing in the purple rain

 

—Prince, "Purple Rain"
Prince's legacy will live on. His discography, performances, friends, family, and others will perpetuate what he created; but now, the legacy that he worked so hard to craft is in the control of others, with no direction or input from Prince himself. His heirs will need to craft the legacy that they think Prince may have wanted.
Furthermore, Prince's estate, which is estimated in excess of $300 million, could be halved by estate taxes. With a simple will, prince could have created a $100 million+ foundation and left his heirs in the same financial situation they will end up in after the IRS and State of Minnesota get their share of his estate.
One, two, three, four
Hey, look me over
Tell me do you like what you see?
Hey, I ain't got no money
But honey I'm rich on personality
Hey, check it all out
Baby I know what it's all about
Before the night is through
You will see my point of view
Even if I have too scream and shout

     —Prince, "Baby I'm A Star"
I would like to think that if Prince had been a client of Affiance Financial, we could have helped him create an estate plan to provide for his heirs, create a meaningful plan for his legacy, and protect his estate from creditors and the IRS. After all, in almost every client relationship we begin by asking our clients about precisely these issues. Granted, none of them so far has been a celebrity of Prince's stature (sorry clients), but they have participated in meaningful and thoughtful conversations about the legacies that they want to leave. If you would like to discuss your estate and legacy planning options, please contact your financial advisor today.
It's been so lonely without you here
I'm like a bird without a song
Nothin' can stop this lonely rain from fallin'
Tell me baby, where did I go wrong?
All the flowers that you planted, sugar
In the backyard, all died when you went away
—Prince, "Nothing Compares 2 U"