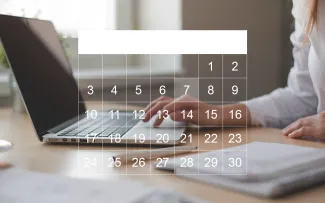 Schedule on Your Own Time With Calendly
Over the years, Affiance Financial has worked hard to enhance our efficiency. But try as we might, we just can't seem to avoid the game of phone and email tag that occurs when trying to schedule a meeting. You are busy people. Finding room for us on your calendar isn't always easy. We get it. And we want to help.
The Affiance Team has been using an online scheduling tool called Calendly to schedule client meetings for more than a year now, and we'd like to invite you to use it too. We hope this article helps you feel more comfortable with Calendly, and gives you the confidence to use this tool to schedule meetings that work for you.
Here's how it works
Calendly syncs with your advisor's Outlook calendar to determine when they're available for meetings. It automatically recognizes any existing events on your advisor's calendar and eliminates those times from the available scheduling options. Calendly puts you in control, by allowing you to search the available meeting times to choose the one that works best for you.
You can access your advisor's Calendly page at any time by visiting the Schedule a Meeting page in the Client Access section of our website. From there, click on the picture of your advisor to access their Calendly page. If you meet with more than one advisor, select your main advisor; their Calendly page will include options to meet with an additional advisor. It will also include options to select the type of meeting you prefer, an Office Meeting, Zoom Video Meeting, or Phone Meeting. Once you've selected your preferred meeting type, you can find a day and time that works for both you and your advisor. 
Receiving a scheduling email
You may also receive a link to Calendly in a scheduling email from your advisor, our Scheduling Specialist, Megan Pace, or another member of the Affiance Team. Often, this link will take you directly to the Calendly page for your preferred meeting type. If we are uncertain about which type of meeting you prefer, we will send three Calendly links, one for each type of meeting offered. Click on the link of your preferred meeting type and you will be brought to your advisor's Calendly page showing all available meeting times.
Confirmation emails, reminder emails, and calendar options
When using Calendly to schedule a meeting, you will automatically receive a confirmation email that contains the details of your meeting. And as your meeting approaches, you will receive reminder emails — one month, one week, and one day before the meeting. 
Calendly also gives you the option to save your meeting to your Outlook or Google calendar. From the meeting confirmation page or confirmation email, click one of the "Add to Calendar" buttons to download the event. Once the event has downloaded, open it and save the meeting to your calendar.
Rescheduling and canceling
Calendly also makes it easy to reschedule or cancel a meeting. If you need to reschedule or cancel your meeting, simply access your confirmation email, calendar appointment, or any of the reminder emails and select the reschedule or cancel link to be connected back to the Calendly site.
Of course, we're still here for you. If you have any trouble, questions, or just want to hear a friendly voice, don't hesitate to reach out to our Scheduling Specialist, Megan Pace. She'll be happy to assist you. But, we hope you'll give Calendly a try. We think you'll like being able to schedule meetings on your own time.