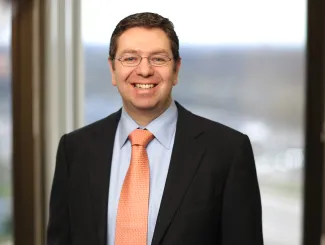 Seth Meisler Celebrates his 10-Year Anniversary – by Joining Ed Slott's Elite IRA Advisor Group
Ten years ago last month, Seth Meisler made the move from Chicago to St. Louis Park to join Affiance Financial as Chief Investment Officer. The firm looked a little different then – with only about a dozen employees in an office on the south side of 394.

Before long, the firm grew and moved across the highway. Seth recalls the time his toddler daughter, now entering sixth grade, came racing to greet him in his office, only to run smack into his glass wall (luckily, toddlers are resilient stock).

As the firm grew, so did Seth's responsibilities. In 2012, he became a partner. And over the last few years, he has led the Investment Committee and grown the Marketing and Communications Department. Most recently, Seth has been focusing his energy on growing his advisory practice.

This year, in his seemingly boundless pursuit of self-improvement, Seth became an Ed Slott Elite IRA Advisor. You may know Ed Slott from one of his three public television specials. But if you are unfamiliar, Ed Slott is a financial expert, author, and public speaker who provides training in IRAs and retirement distribution planning. His organization, Ed Slott's Elite IRA Advisor Group, is an exclusive organization of financial advisors dedicated to being leaders in the IRA industry.

In May, Seth spent two days at Ed Slott's Advanced IRA Training in Kansas City, Missouri. He returned equipped with resources, modules, and best of all, a fresh take on retirement planning to share with his fellow advisors. As a member of Ed Slott's Elite IRA Advisor Group, Seth continues to have access to the group's extensive resource library, IRA experts to help with tough questions, as well as additional advanced training opportunities.
Seth has contributed much to Affiance Financial over the past 10 years. We look forward to seeing what he has to offer during the firm's next decade.