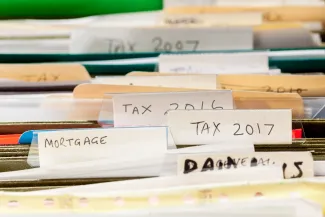 It may not have manifested itself as we would have liked, but believe it or not, spring has been upon us since the end of March. With spring, our minds always look toward the Masters, taxes, and spring cleaning. With the first two now in the rearview mirror, we finally have a chance to concentrate on the third. Time to clean out all of those files we have been hanging on to for far too long.
The easiest way to manage clutter is to dispose of it as it comes in, but for many reasons, that simply does not happen. Thus, we thought this would be a good time to encourage you to embark on some spring cleaning of your own. Hopefully our list below will help you do just that.
Get rid of the paper
We all know how much mail can pour into our homes, especially in the months immediately before and after the end of the year. One way to decide what stays and what goes is to develop a plan for how long you need to keep certain items.
One rule of thumb is to use the frequency of a statement as your baseline. Quarterly account statement — throw it away after three months. You will already have another, more up-to-date version lying around. Same goes for annual account statements, you likely don't need to keep any from 2016 or earlier.
With respect to tax records, for individuals the general rule is three years. If you are in a special tax situation you may need to hold onto records for seven years. However, some advisors suggest holding onto your actual return for longer. If you want to do this, we recommend going digital.
Keep in mind that your advisor, accountant, and other professionals may be able to get you historical records if you ever need them.
Consider investing in a shredder and a scanner.

It is always a good idea, when getting rid of sensitive financial documents, to shred them. Many places, such as your local UPS store offer shredding services if needed.
If you are hesitant to get rid of old records, scan them, save them, and then shred them. Actually, this is a good idea not just for old documents, but all documents. Go paperless and go green!
Consolidate accounts
Consider checking with your financial advisor to find out if it makes sense to consolidate any of your accounts. This includes bank, savings, investment, and retirement accounts, and may include many more. Accounts that cannot be consolidated should still be reviewed annually to make sure your information is up-to-date and comprehensive. Another option is to use a digital platform to see all of your accounts in one place.  Our clients have access to the Black Diamond Client Portal, which can be used for this purpose. If you aren't already taking advantage of this tool, talk to your advisor today.
Move beyond the financial stuff
You are off to a great start, but you are much more than a series of bank accounts and tax records. So what's next?
Start with the most valuable stuff. Locate your estate planning and insurance documents. Make sure they are up to-date and in a safe and easy to locate area.
Are your home and car in good order? From property insurance to maintenance records to batteries in the smoke detector, use your momentum to take care of those items which may have been put off.
After you have addressed the big ticket items, look at the rest of your "stuff." Categorize items into one of three groups: keep it, donate it, trash it.
Keep it
We all have things we want to keep. Maybe they have sentimental value, or maybe we will still use them. But even for things we want to keep, it is helpful to go through them and organize them. If you cannot remember in a year from now why you kept an item, you know that it can be moved to the "donate" or "trash" category.
Donate it
A lot of the things we are holding on to are quality items that simply have no value to us any longer. There are many people and organizations who can put these items to good use. After gathering these items, do a big trip to Goodwill or call a local charity like The Arc, to come pick your items up. After you have done your first major purge, smaller monthly drop offs will help avoid unused items from piling up.
Trash it
For some, the weekly trash pick-up is sufficient to get rid of the excess items we have. But for those who are really motived, or who have really accumulated, consider a "dumpster bag." You can get these at your local hardware store or from Amazon.com. A bag costs about $30. You can fill it up with almost anything you want, from mattresses, to lawn debris, to small appliances. When you are finished, you order a pick-up, and a truck comes to your curb and hauls everything away. The fee to get a bag picked up is usually $150 or less.
Doing a thorough spring cleaning can have numerous benefits for you and your loved ones. To begin, you may find assets you had forgotten about, realize that you need to renew your passport, or simply free up storage space that has been occupied by outdated statements. By having your critical financial information in one place, and not having statements floating around, you will  also take one step toward reducing the risk of identity theft.  And, it will also be easier for others to help you access or understand your information, if necessary. Beyond this immediate benefit, you will also have greater peace of mind and may find that you enjoy organization over chaos.
Finally, by taking small, incremental steps in an ongoing battle with clutter, the hope is that you will avoid being overwhelmed by the task in the future. When looking to move, after the loss of a loved one, or even when doing spring cleaning in a year from now, having started on the project of reducing clutter today will pay dividends for years to come.
Good luck.
The views represented are not meant to be construed as advice. Moreover, no client or prospective client should assume that this content serves as the receipt of, or a substitute for, personalized advice from Affiance Financial, or from any other professional. Affiance Financial is not an attorney and no portion of this content should be interpreted as legal advice.