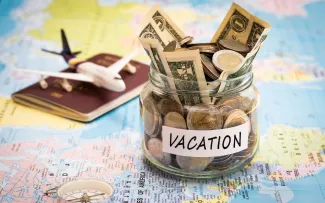 Five Tips to Help Save Money for a Vacation
By Keely Matis
Now that travel is picking back up, are you starting to think about where you want to go next? Personally, I love traveling and try to travel at least a few times a year, whether that be somewhere close to home or flying across the country to the ocean. Traveling and going on vacation can be so much fun, but saving money and paying for your trips can feel daunting. To help, I've written five easy tips to help you start saving for your next vacation!
1. Start Saving Now
Even if you don't have a vacation planned yet, start saving as soon as you can so that when you do book a trip, you already have some money set aside. The best way to start is to figure out how much you are able to save each month and put it into a dedicated savings account so that you won't be tempted to spend it on something besides a vacation. Saving monthly for a trip will help make it feel more manageable, rather than paying a large sum all at once. Bonus tip: if you book with a travel agent, you can usually pay for your trip in monthly installments!
2. Set Price Alerts for Flights and Hotels
If you already know when and where you want to travel, price alerts are a great tool for saving money. You won't have to check prices every day; instead, you will get notifications as soon as the price of your trip drops. Different price alert websites and apps include Kayak, Skyscanner, Hopper, and even Google.
3. Utilize Travel Rewards Credit Cards
There are many different credit cards out there with travel rewards. From earning cash back, to airline miles, free nights at hotels, complimentary upgrades on flights, and more, these credit cards can be a good method for getting more out of your money when planning for a vacation.
There are a few types of travel credit cards including:
General travel credit cards: A general travel credit card allows for more flexibility in planning because they aren't specific to any airline or hotel chain, and can allow you to earn points and cash back for everyday purchases. They may also come with perks like zero foreign transaction fees and TSA PreCheck® Global Entry.
Airline credit cards: Airline credit cards are a good option if you prefer one specific airline chain. Your everyday purchases can turn into miles that can be used for plane tickets, free checked bags, and seat upgrades.
Hotel credit cards: Like airline credit cards, hotel credit cards are a good option if you prefer a certain hotel chain. Their perks may include free breakfasts, free stays, and room upgrades.
While travel rewards credit cards may come with variety of perks, there are some downsides to keep in mind. Some of these downsides may include: annual fees, sometimes up to a few hundred dollars, blackout dates on when and how you can redeem your rewards, and high interest rates after an initial promotion. Be sure to do your research, or talk to your advisor before signing up for travel rewards credit cards.
4. Use a Travel Agent
Travel agents can help you save time and money when booking a vacation. They can help you find deals you may not have access to yourself. And, they can usually help if anything goes wrong during your vacation, like losing your luggage or missing your flight. Travel Agents often suggest the best places to eat, stay, and visit – some you may have never heard of. Most of the time they don't charge for their services, either. Generally, travel agents earn their main revenue from commissions that vendors pay for vacation packages, airfare, cruises, and other add-ons.
5. Use an App To Save Money
There are a few different money saving apps you can download to help save for a vacation. Digit, for example, links to your checking account and automatically transfers money to your savings account. You can set goals within the app, and it will use an algorithm to determine how much money you can afford to have pulled from your checking account, helping you get to your goal without having to think too hard about it. Another savings app option is Qapital. Qapital also links to your checking account and you can set goals with various options for hitting those goals, such as rounding up on purchases or pulling out a certain amount each week.
Have a great time planning your next vacation with these savings tips!
There can be no assurance that the content made reference to directly or indirectly in this blog post will be suitable for your individual situation, or prove successful. Due to various factors, including changing conditions and/or applicable laws, the content is only reflective of current opinions or positions and is subject to change at any time and without notice. Moreover, you should not assume that any information contained in this blog post serves as the receipt of, or as a substitute for, personalized investment advice from Affiance Financial. Please remember to contact Affiance Financial if there are any changes in your personal/financial situation or investment objectives.