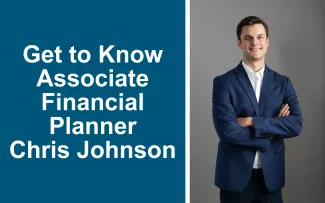 Get to Know Associate Financial Planner Chris Johnson
Chris Johnson, Associate Financial Planner, recently joined the Affiance Financial team. We sat down with him to learn more about his journey to becoming a financial planner, as well as some interesting facts about Chris outside the office.
 
Q: Have you always known you wanted to be a financial planner?
A: I realized I wanted to be a financial planner during my sophomore year of college. All business students at my university were required to take a career skills course that is designed to increase students' knowledge and skills associated with the career search process. Part of the course included a career exploration project. After reviewing numerous different industries and career options, I landed on financial planning.
 
Q: What was it about financial planning that caught your interest?
A: The financial planning industry appealed to me because I recognized that it is relevant in all aspects of peoples' lives. Personal finances are a key consideration in every decision, big or small, that someone makes. By understanding the importance of financial planning and creating a roadmap to reach personal goals, making smart decisions becomes easier and the results translate to other areas of life. Additionally, I discovered that financial planners have the opportunity to leave a lasting impact on others through the guidance they provide, equipping them with the tools necessary to help them achieve success. Helping individuals and witnessing their growth, both financially and personally, is something I knew I would be proud of as a financial planner.
 
Q: What aspect of your job do you enjoy the most?
A: The aspect I enjoy the most about my job is that every day is different. Every day presents unique and fun challenges, as well as the opportunity to learn!
 
Q: What are three words you would use to describe yourself?
A: Curious, dedicated, and reliable. But if you asked my friends and family, they would probably say that I am easygoing and supportive.
 
Q: What do you like to do outside of work?
A: I enjoy spending time with family and friends, going up to my cabin, traveling, golfing, skiing, and watching the Minnesota Vikings (even though it almost always ends in heartbreak).
 
Q: Do you have a favorite place you've traveled?
A: After graduating college, two of my close friends and I spent four weeks backpacking in Europe. We traveled to Germany, Italy, Greece, and Spain. It was an incredible adventure and we enjoyed every second of it.
 
Q: Lastly, what is your favorite part about working at Affiance Financial so far?
A: From my first day at Affiance, I noticed a level of comradery among the employees that is difficult to match. I appreciate that Affiance takes a team-based, client-first approach to financial planning. The people that make up Affiance have a genuine interest in helping other team members succeed while providing exceptional service to clients.