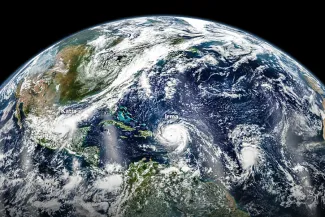 Hurricanes Put Economy and Fed in Check
by Marc Usem
The recent plethora of hurricanes are expected to put the economy and the Fed in check. The storms have wreaked havoc with record breaking rainfalls of as much as 50 inches in Texas, and one the largest hurricanes on record engulfing the entire state of Florida. Our thoughts and prayers are with the people and communities affected by the destructive storms. The human toll is tremendous, with millions of people affected. The true economic costs have yet to be tallied, but will likely be the most expensive ever on a combined basis exceeding $250 billion in damage.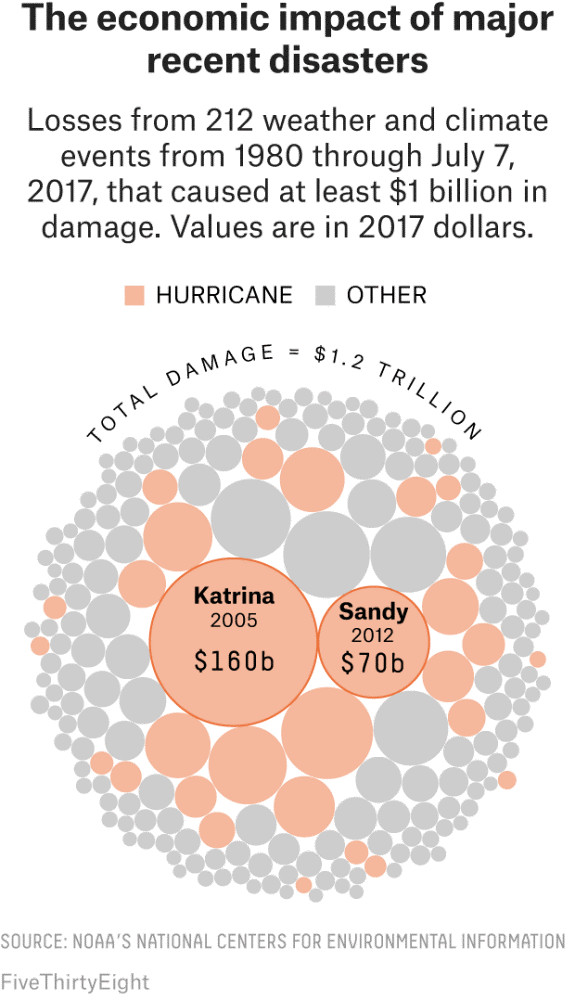 Turning our focus to the markets, hurricanes have historically been a tale of economic "bad news, good news." Initially the disruptions to work, employment, production, and trade put downward pressure on economic activity. The slowdown is immediate, but tends to be short-lived. Thereafter, the stimulus of federal aid and reconstruction funds leads to a significant rebound in economic activity. In the case of this year's twin hurricanes, we would expect the scenario to be similar but amplified due to the sheer magnitude of the storms' destruction.
Houston is one of the largest regional economies in the nation with a regional GDP of nearly $500 billion, while GDP for the state of Texas is $1.6 trillion. In comparison, the entire state of Florida's GDP is $750 billion. And, the areas damaged by the storms extend beyond Houston and Florida to include much of Texas and the Southeast. We expect that the combined economies affected will exceed $1 trillion, or more than 5% of our nation's total GDP.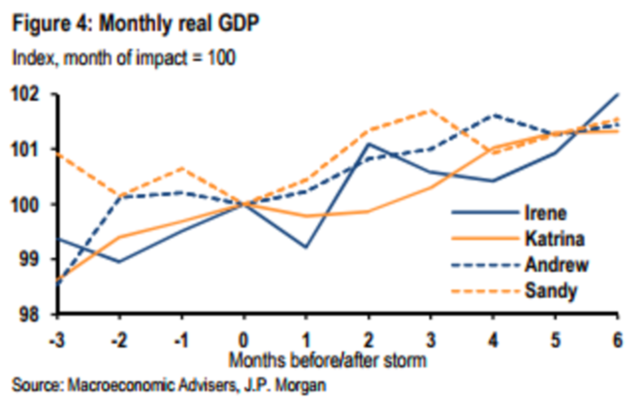 What does this mean for investors?
We do not recommend making any changes to portfolios as storm-related effects tend to be relatively short-term in nature and tend to result in a boost to economic activity in their aftermath. The storms could possibly slow the pace of Federal Reserve interest rate increases and lead to a short-term reduction in our nation's GDP growth rate. Markets may be weaker during the start of next quarter as growth slows, but could rebound as reconstruction activity is recorded across the retail and construction industries. (See past hurricane impact chart above). The silver lining may be that the storms could help allow our nation's GDP growth to continue on its current slow and steady pace without overheating.
We would note that the industry most affected by the storms was the energy sector. Nearly one-third of our nation's refining capacity is located in the Houston area, where they make gasoline, diesel fuel, heating oil, and other distillates. These refined products likely will see higher prices as refining capacity is off-line and demand is met by more expensive imported product. Prices for crude oil, the input to the refining process, may be negatively affected in the short-term, as oil cannot be used until refiners are back on-line. On the exploration and production side, any longer-term disruptions in oil production could benefit oil producers as global demand is not expected to slow.
Our nation's economy is strong and our people are resilient. We will get through the storms' wrath, and even amid the upheaval, our country will continue to grow stronger.
The views represented are not meant to be construed as advice. Moreover, no client or prospective client should assume that this content serves as the receipt of, or a substitute for, personalized advice from Affiance Financial, or from any other professional.  
Securities and advisory services offered through Private Client Services. Member FINRA, SIPC. Advisory services also offered through Affiance Financial, a Registered Investment Adviser. Private Client Services and Affiance Financial are unaffiliated entities. 
Sources:
https://seekingalpha.com/article/4103208-likely-economic-impact-hurricane-harvey-compared-hurricane-katrina
https://fivethirtyeight.com/features/hurricane-harveys-impact-and-how-it-compares-to-other-storms/
https://www.nytimes.com/2017/08/28/business/economy/texas-hurricane-harvey-economic-impact.html?mcubz=0
https://www.cnbc.com/2017/09/08/feds-dudley-hurricanes-will-boost-economic-activity-over-the-long-run.html
http://abcnews.go.com/US/hurricanes-harvey-irma-cost-us-economy-290-billion/story?id=49761970