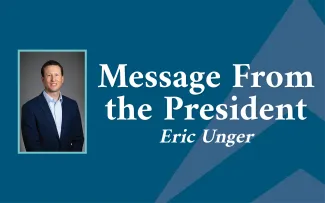 Message From the President: Summer 2023
Over Labor Day weekend, two of the largest brokerage firms in the nation will become one, when TD Ameritrade accounts are transferred to Charles Schwab. As clients of Affiance Financial, here's what we think you need to know:
Charles Schwab has acquired TD Ameritrade. The integration of Schwab's and TD Ameritrade's operations has been underway since the acquisition was announced on November 25, 2019. The transaction received regulatory approval in October, 2020, and in September, 2021, Schwab started engaging firms like Affiance Financial about the transition.
The acquisition of TD Ameritrade delivers additional scale to Schwab, with a combined total of approximately $7 trillion in client assets and 33 million brokerage accounts.  Combining the strengths of Schwab and TD Ameritrade creates the potential for additional investments in service capabilities.
Our focus is making sure the transition goes smoothly for you. To make sure we are prepared office-wide, we started the planning process last summer. For about a year, we have been working with the Schwab team to integrate Schwab's technology platform and service offerings into our internal processes and procedures. Our team has been trained on the Schwab platform, and we are confident in our ability to deliver the same level of service on the Schwab platform that you have come to expect from Affiance.
The differences are not likely to be significant. Both TD Ameritrade and Schwab offer similar services that include custody of securities, trade execution, and settlement of transactions. Today, we believe Schwab executes trades effectively and provides best execution for our clients but we will continue to undertake an annual review to ensure that Schwab remains the most favorable brokerage firm. We have not received any financial compensation from Schwab nor do we have any soft-dollar arrangements with that company.
What comes next? Understanding the process for moving your accounts to the Schwab platform has been top of mind for Affiance, and we are pleased to report that in nearly all cases there will not be any need for repapering – meaning the process to transition most accounts will NOT require any paperwork. This summer, you will receive communication from us, TD Ameritrade, and Schwab about the transition. One of the best things that you can do to ensure a smooth transition is to make sure you fully understand the communication and reach out to us if you have questions.  
Thank you for the trust you place in Affiance Financial.
Respectfully, 
Eric Unger, Partner, President, Chief Compliance Officer
Affiance Financial is registered as an investment adviser with the SEC and only conducts business in states where it is properly registered or is excluded from registration requirements. Registration is not an endorsement of the firm by securities regulators and does not mean the adviser has achieved a specific level of skill or ability.
All investment strategies have the potential for profit or loss. Please remember to contact Affiance Financial right away if there are any changes in your personal or financial situation or your investment objectives.