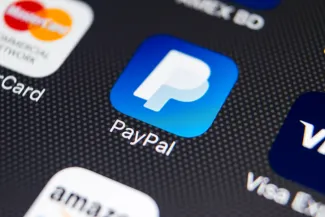 Sometimes getting your friends to pay you back for something you've already paid for in full can be complicated. It's no one's fault — between work, friends, and family it's hard to keep track of every little thing. Fortunately, with the introduction of money transferring apps like Venmo and Zelle, covering the bill comes without the fear of having to chase your friends around to pay you back. You can simply open your preferred money transferring app on your smartphone, charge each of them an equal share, and voila.
In this article, I'll be exploring how money transferring apps work, investigating their inherent security risks, and finally — introducing you to some of the most popular money transferring apps being used today.
How Money Transferring Apps Work
In order to start using a money transferring app, you need two things: a smartphone or tablet and a bank account or credit card. The first step is to download a money transferring app onto your smartphone or tablet. Next, you will need to create an account for the app. This generally includes some variation of: creating a username and password, using two-factor authentication (via text message) to verify your identity, entering your bank account and/or credit card information, and finding your friends and family who also use the app.
While every money transferring app is a little different, there are three important functions each of them (should) have:
Transfer money to friends/family — You simply search for the person you want to pay, enter the amount you want to transfer, and press send.
Charge/request payment — You can also charge someone or request a payment. This comes in handy in situations where you paid a bill in full for a group expense.
Transfer to Bank Account — After you've received a payment, the balance remains in your money transferring app account until you transfer it to your bank account.
Are Money Transferring Apps Secure?
With the increasing number of cyber-attacks in the headlines, it's no surprise that some people are hesitant to send money using an app. Although nearly every money transferring app uses an intelligent form of encryption to protect their users' financial information, there's always a risk associated with linking your bank account to a third-party application. It's up to you to decide if you are willing take the risk.
If you decide the convenience of a money transferring app is worth the risk, there isn't much you can do about large scale data breaches. But you can take steps to protect yourself from scammers. Here are some extra precautions that you can take:
Only send to friends/family — Only transfer money to people you trust. Don't use the app for transactions with strangers from websites like Craigslist.
Use an extra layer of security — Require a pass-code or fingerprint scan whenever you open the app. Or, enable two-factor authentication to require the app to send you a unique code before transferring money.
Keep your transactions private — One of the fun aspects of Venmo is the social feed, which can share your transactions with friends or make them public. However, allowing others to see your transactions could make you more susceptible to scammers. Simply setting your account to private prevents potential scammers from being able to study your money transferring habits, which can be used to trick you into paying them
Enable transaction notifications — This is a simple way to monitor your account activity. If there's a transaction you didn't do – you'll know right away and may be able to limit the damage by contacting your bank or credit card.
Make payments using a credit card, not a bank account — Credit cards generally have higher security than bank accounts. Not only that, but if someone gets ahold of your credit card information, it's the credit card company's money at risk, not yours. One downside of this is that some apps (such as Venmo) charge a 3% transaction fee on credit cards. And, you will still need to add a bank account to transfer the money out of the app.
Don't keep a balance — Transfer your money to your bank account as soon as you receive it. The less time your money spends outside of your bank account, the better.
Whether or not you should download a money transferring app is up to you. Some important factors to consider are: How often would you use it? Are your friends and family using it? Does the convenience outweigh the potential security risk?
If you decide to start using a money transferring app, your next step is to decide which one to use. Before downloading a third-party money transferring app, it's worth looking into what's already installed on your phone. Many of the bigger banks and credit unions such as Bank of America, Wells Fargo, Chase, and Western Union have money transferring capabilities built into their mobile banking apps. Many smartphone makers, such as Apple, Samsung, and Google, also have built in money transferring capabilities. But if you decide to download a third-party app, here are some of the most popular options:
Venmo
Venmo is one of the most popular money transferring apps, even reaching verb status — Venmo me! It's easy to see why, considering how fast, simple, and fun Venmo makes transferring money.
What makes Venmo unique is its social feed. When creating a Venmo account, you build a list of friends by searching their contact information. Whenever you pay or charge someone, Venmo asks "What's it for?" You can type in whatever you like (including emojis), and depending on your profile settings, the transactions will show up in your friends' feeds or the public Venmo feed.
Venmo is free when using a bank account, and charges a 3% fee if using a credit card. Transferring money between users is immediate, but transferring your Venmo balance to your bank account usually requires two business days. If you have an eligible Visa or Mastercard debit card, you can pay an extra $0.25 for an instant transfer, which takes 30 minutes.
Zelle
If you don't want to give your financial information to a third-party app, Zelle may be right for you. Zelle has partnered with a number of banks and credit unions so that it's already built into their mobile banking apps. If Zelle is not partnered with your bank, you can still use it, but you will need to download the app and set up an account like any other money transferring app.
To transfer money with Zelle, you enter your recipients email address or phone number and the amount you want to send or request. There are no fees associated with sending or receiving money, and transfers are typically executed in a matter of minutes. Because Zelle doesn't allow you to use a credit card, the transfer goes directly to your bank account.
PayPal
Most people know PayPal as an online payment system, but did you know that it also offers money transferring between individuals? You simply enter your contact's email address and the amount you want to send, and your payment goes directly to their PayPal account. Similar to other money transferring apps, if the person you are sending money does not have a PayPal account, they will receive a notification  that they have funds waiting to be delivered, and will need to create a PayPal account to receive them. Payment can then be transfer from your PayPal account to your bank account.
You can also use a contact's email address to request a payment. Personal money transfers are free when the payment comes from a PayPal balance, but there is a 3.4% fee when a debit or credit card is used (the sender decides who pays the fee). If you already use PayPal for online shopping, it may be easiest to start using it as a money transferring app as well.
Money transferring apps make sharing expenses easy. But there is an inherent risk any time you give out your financial information. So, it's up to you to decide whether or not the convenience outweighs the risk. If you decide to use a money transferring app, there are a lot to choose from. Some might already be on your phone – either built into your device or offered through your mobile banking app. But at the end of the day, what really matters is which app your family and friends are using. If everyone you want to transfer money with is using Venmo, it doesn't make a lot of sense for you to use Zelle. And vice-versa.