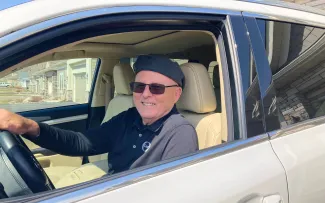 Navigating the Current Auto Market: An Interview with an Independent Auto Consultant
By Brendan Halleron, CFP®, AIF®, BFA™
Financial Planner Brendan Halleron recently sat down with his dad, Denny Halleron, owner of Carcierge, an independent auto consulting service, to learn more about navigating the current auto market.
Q: Tell us about yourself and what you do.
A: I'm Denny Halleron, the owner of Carcierge, an independent auto consulting service. After a career in auto sales, service, and management, I became an auto consultant to provide clients with a better way to buy a car.
Q: What is an auto consultant?
A: Surveys show most people dread buying a car because they don't have the time to devote to the search or the expertise to feel confident about their decisions. When you work with an auto consultant, you hire an expert to work directly for you—not the dealership—from the initial search to the final delivery. You save time, stress, and money while getting exactly what you want.
Q: What's the auto market like today?
A: Before Covid, inventory was abundant, and prices were reasonable and negotiable. The post-Covid market is unprecedented, with inventories of both new and used vehicles at their lowest levels since World War II. High consumer demand, electronic chip shortages, and supply chain issues have created the perfect storm for the auto industry. Like buying a house, finding a car has become a big challenge.
Q: My vehicle is coming off a lease. What should I do?
A: Buy it! Unless there is another model that you really want, I advise buying your leased vehicle for the contract residual value before the lease expires. Residual values are 25-30% lower than the current market value. The leaser will raise the price to the current market value the day after the lease expires.
Q: What is the best value today?
A: Aside from buying out a leased vehicle contract, a new vehicle is currently the best value if you can wait for the car to be built. The window sticker price is still lower than today's inflated prices for used vehicles.
Q: I'm financing my car. What are current interest rates?
A: With good credit, new vehicle rates are around 2.9%, and used vehicle rates are about ¾ to 1% higher.
Q: What are the most important considerations when searching for a new or used vehicle in today's market?
A: New Vehicles: There are currently very few new vehicles available on dealer lots to purchase; most new car buyers will need to place an order. This allows you to specify your exact color, trim level, and features. However, high demand and low inventory mean that today's good deals are about short delivery times rather than low prices. One benefit of working with an auto consultant, such as Carcierge, is that I have relationships with multiple dealers for many brands. This allows me to buy vehicles still in the production pipeline, which can trim weeks or months off the delivery time.
Used Vehicles: When searching for a used vehicle, it's important to thoroughly vet its history from the day it was first sold, its type of ownership or usage, where it was driven, and any accident history. Most importantly, you need to investigate service and maintenance records. As an auto consultant, I use software to locate cars most people would not be able to find through their own internet search. And, any vehicle I present for a client's consideration must be in the top 10% of what's available in the market.
For more information:
Denny Halleron
Carcierge
www.carciergeinc.com
denny@carciergeinc.com| 612-720-3193
This article is being provided for informational purposes only and is believed to be factual and up-to-date. Affiance Financial does not guarantee its accuracy and it should not be regarded as a complete analysis of the subject discussed. All opinions reflect the judgment of the interviewee as of the date of the post and are subject to change. Affiance Financial and Private Client Services are not responsible for comments made by third parties.