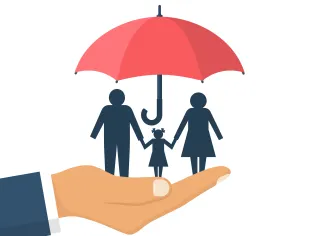 by Omer Abramovich
Everyone who owns a home or car has homeowners and automobile insurance coverage. If you own a boat or a motorcycle, you likely have a policy for those, too. But is that enough? Today, I'd like to introduce you to an insurance policy that often goes unnoticed, but can make a huge difference to a person's financial security – the Umbrella policy.
What is it?
An umbrella policy, or as it's officially called, a Personal Liability Umbrella Policy (PLUP), is designed to protect against lawsuits. In today's world, lawsuits are fairly common. Its not uncommon for juries and judges to award large sums of money for incidents at home or while driving. Umbrella insurance coverage provides additional liability coverage above the limits of your homeowners or automobile policies. This extra protection is designed to kick in when the liability specified in your homeowners or automobile insurance has been exhausted. The main purpose of this is to protect your asset base in the case of a major lawsuit.   
What does it cover?
Injuries — Umbrella policies cover the cost of damages to another person's body. This includes the cost of medical bills and/or liability claims made against you by the injured party.
Damage to property — Umbrella policies cover the cost of damages or losses to another person's tangible property. In other words, damages to vehicles and other property as a result of an accident where you are at fault, are covered. Interestingly, for those of you who have children in high school, accidental damage to school property caused by your children is covered under an umbrella policy!
Certain lawsuits — Umbrella policies provide protection against any of the following lawsuits: slander, libel, false arrest, malicious prosecution and mental anguish.
What doesn't it cover?
Many umbrella insurance policies specifically exclude certain types of lawsuits. These are generally business-related, and include:
Malpractice lawsuits
Workers compensation claims against employers
Damage caused by a business, or by any business-related activity
Also, it's important to reiterate that umbrella insurance only covers accidental damage, not damage that you cause intentionally. And, because umbrella policies protect you from being sued, they do not help cover expenses if you are hurt or your property is damaged.
Who needs it?
Umbrella insurance protects your assets in the event of a lawsuit. So, it only makes sense to buy a policy if you have assets to protect. For most individuals, the cost of obtaining a policy is negligible and is well worth the additional piece of mind it provides. The rule of thumb in the insurance world is that individuals/families who have more in assets than liability coverage from their homeowners and automobile should consider an umbrella policy to cover the difference. For example, if you have $700,000 in assets and your auto insurance only covers you for $300,000 per accident, an umbrella insurance policy can protect your other $400,000 of assets.
It's important to note that your insurance provider may require you to increase your coverage before letting you purchase Umbrella insurance. Typically they will require Bodily Injury Coverage of $300,000 and Property Damage of $300,000.
What should I do now?
If you think an umbrella insurance policy is right for you, the next question to ask is how much coverage you need. The equation is fairly simple, but it may take some investigative work. To find your recommended amount of Umbrella policy coverage, simply subtract your current minimum liability coverage from your total net worth.
Net Worth
The value of all your assets — your house, cash in the bank, stocks and bonds, retirement accounts, and anything else of financial value — minus any debt (mortgage, car loans, credit card balance, etc.)
- Current Minimum Liability Coverage
The lowest of your existing insurance policies' liability coverage amounts: auto insurance bodily damage per person; auto insurance bodily damage per accident; auto insurance property damage per accident; or homeowners insurance personal liability occurrence.
Recommended Amount of Umbrella Policy Coverage
One important clarification is that this equation represents a rule of thumb, it isn't intended to protect against the rare case where an individual might get sued for more than their net worth. My recommendation is that individuals who obtain this coverage go a bit over the recommended amount. This simply creates additional peace of mind. If you think that an umbrella policy is right for you, please contact your advisor. We will be happy to discuss your options. 
Disclosure: The views represented are not meant to be construed as advice. Moreover, no client or prospective client should assume that this content serves as the receipt of, or a substitute for, personalized advice from Affiance Financial, or from any other professional.