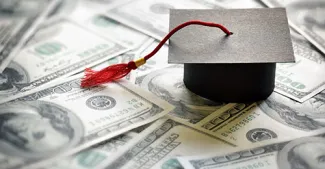 Useful Tools for Students Saving Up for College
A college education is costly, and the price of tuition continues to rise each year. However, for many students, a college education is the best way to prepare for a future career. Additionally, going to college offers many other benefits such as friendship, networking opportunities, and personal growth.
It's understandable why so many people pursue higher education each year. But how can students save money so that tuition bills don't negatively outweigh all the positives? A comprehensive approach to financial planning is critical when it comes to paying for college. Read on to discover our top five tips for college savings. 
1. Apply for Scholarships
It's no secret that college tuition is expensive. The price of courses alone is costly, and frequently students need to pay for textbooks, housing, and meal plans on top of it. With all the fees factored in, College Board estimates that the average yearly tuition bill for a four-year private university is close to $47,000, while a four-year public state school can cost up to $37,000 per year for out-of-state attendees. 
While two-year community colleges cost significantly less, tuition fees can still amount to $12,000 per year. Yikes, right? Thankfully, there are ways to reduce college tuition fees. As a senior in high school, you should apply for as many scholarships as you can.
A scholarship is a money grant that is made to support your education. Often, scholarships are awarded to people with outstanding academic or athletic achievements. However, there are many types of scholarship categories, including:
Diversity
Community service
Academic
Athletic 
Need-based 
Military 
Course of study
First-generation
Many private universities offer academic scholarships to students with certain grade point averages (GPAs) or standardized test scores. There are many websites where you can apply for scholarships; however, your best chance at receiving a scholarship is to apply through local foundations. Many organizations in your city or state prioritize awarding money to local students, and sometimes, the criteria are specific, creative, and even unusual. 
Get involved in your community as early as possible, and perfect a compelling scholarship essay. Whether you have unique talents or you're the first person from your family to pursue higher education, there's a scholarship for you. If you're diligent about applying, you increase your chances of receiving substantial financial help.
2. Get a Part-Time Job
Getting a part-time job in high school is one of the best ways to start putting aside money for college. We know it can be tempting to spend those paychecks on new electronics, clothes, and adventures with friends, but it is vital to start saving right away.
The sooner you put money aside for college, the better. When you get cash for your birthday or holidays, put some or all of it in the bank for college. We know it's not fun at the time, but you'll thank us when it's time to make that first tuition payment.
If you start working a part-time job as soon as you're able to, which in many states is at age 15 or 16, you can put aside a significant amount of money before heading off to college. If you're able to increase your hours or get a second part-time job in the summer months, that's even better. Popular positions for high school students are:
Lifeguard
Cashier
Receptionist
Restaurant server or host
Babysitter
Retail associate
Landscape laborer
Camp counselor
3. Earn College Credits in High School
Did you know that you can earn college credits in high school? Taking college-level courses will save you money since you won't have to take those classes at your university. There are two ways to earn college credits in high school: enroll in courses through a community college or take advanced placement (AP) courses.
You can enroll in introductory general education credits at your local community college, where the price per credit will be lower than a four-year public or private university. To save even more money, you can opt to attend community college for an entire year after high school before transferring to a university, which will drastically lower your tuition costs.
Most high schools offer AP courses in their curriculum. After you complete the AP course for high school credit, you can take the AP exam. If you pass the AP exam, you will earn college credit. 
4. Create a 529 Savings Plan
Start saving early and open a 529 savings plan. It is one of the best ways to put aside money for college. The 529 savings account's value will go up or down depending on the investment's performance, much like other investment accounts.
While there is more risk with a 529 college savings plan, there is also the potential for much more reward than a standard savings account. As long as the funds are used to pay for qualified education expenses such as tuition, fees, and books, all earnings and withdrawals are tax-free. 
Each state offers a 529 savings plan, and you do not need to live in or plan to attend college in the state where you enroll.
5. Fill Out the FAFSA
If you want to attend college, it is essential to prioritize filling out the Free Application for Federal Student Aid (FAFSA). Schools reference the FAFSA to determine how much money they can offer each student. The FAFSA covers aid such as federal grants, work-study programs, state aid, and school aid. 
The FAFSA also offers loans, so make sure to read the fine print before accepting everything that gets offered to you. You can reject loan offers or accept a portion of them. Additionally, beware of the FAFSA deadline at colleges. If you submit your FAFSA after the deadline, you could miss out on a substantial amount of monetary help.
It's Never Too Late to Start Saving for College
At Affiance Financial, we want to encourage all future scholars to begin saving for college as soon as possible. Be sure to maximize your opportunity for aid by applying for scholarships and filling out the FAFSA on time. Secure a part-time job, start putting money into a savings account, and inform your parents about investing in a 529 college savings fund.
Don't let high tuition costs get in the way of your bright and exciting future. If you have any questions about financial planning for college, contact Affiance Financial today. Our skilled team is here to help you save as much money as possible before you begin your higher education journey.
Please Note: There are no assurances that the content made reference to directly or indirectly in this blog post will be profitable, or suitable for your individual situation, or prove successful. Due to various factors, including changing conditions, the content is only reflective of current opinions or positions and is subject to change at any time and without notice. Moreover, you should not assume that this article serves as the receipt of, or as a substitute for, personalized investment advice from Affiance Financial. Please remember to contact Affiance Financial if there are any changes in your personal/financial situation or investment objectives.