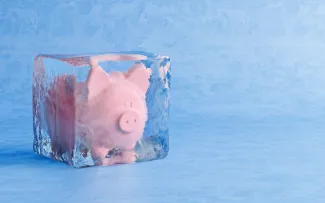 Why and How to Freeze Your Child's Credit
We tend to worry a lot about our credit. We take measures to keep our credit safe from identity theft, data breaches, and other security deviants. But, do we take these same precautions for our children's credit?
Children can be easy targets for these "security-breachers," so creating a credit-freeze, or security-freeze, can be crucial for protecting a child's identity and future credit. The reason children are easy targets for identity theft is because credit breaches can go unnoticed for incredibly long periods of time until a child needs to refer to their credit history and finds that it does not align with what is expected. It generally goes unnoticed until a child needs to apply for a job, credit card, or apartment. Ultimately, these will likely get rejected because the child's credit history doesn't actually reflect their finances, but rather that of the finances caused by the breach. This can result in a long struggle to attempt to "reset" their credit.
The steps to freeze a child's credit are somewhat inconvenient, but fairly straightforward:
The first step is acquiring the forms to freeze a child's credit; these can be found on the websites' of the three major credit bureaus (Experian, Equifax, TransUnion) independently, or with the help of a financial advisor. The wording on these forms might vary slightly; however, each site seeks to acquire the same information. You will need to fill out a form through each one of these credit bureaus.
Once you have these forms, you can begin gathering the necessary documentation such as an ID, birth certificate, social security card, and other required documents to complete the forms.
Once the forms are filled out, you need to mail them to each of the three major credit bureaus (Experian, Equifax, TransUnion).
Wait one to three business days for the child's credit to freeze.
Enjoy the peace of mind that your child's credit is safe.
Freezing a child's credit might seem like an overwhelming process, but there are a surplus of resources online to answer any questions.
One common question you may have when freezing your child's credit is if you have multiple children, can you make multiple requests at the same time? Luckily, the answer is yes, you can send multiple freezes at the same time. So for parents with more than one child, that may save you a step, or at least a stamp.
Another common question is how long the freeze is held on the child's account. The answer is that the freeze remains until you make a request to lift the freeze, or until your child turns 16. When your child turns 16 they gain discretion over the freeze and it becomes up to them to decide whether or not to lift it.
Don't wait until your child grows up and tries to apply for an apartment or a loan to learn about a breach of their identity. Freezing your child's credit today can help you have peace of mind that your child will have the blank slate they deserve when they become an adult.
https://www.nerdwallet.com/article/finance/child-identity-theft
https://www.equifax.com/personal/education/identity-theft/freezing-your-childs-credit-report-faq/
https://www.transunion.com/credit-freeze
There can be no assurance that the content made reference to directly or indirectly in this blog post will be suitable for your individual situation, or prove successful. Due to various factors, including changing conditions and/or applicable laws, the content is only reflective of current opinions or positions and is subject to change at any time and without notice. Moreover, you should not assume that any information contained in this blog post serves as the receipt of, or as a substitute for, personalized investment advice from Affiance Financial. Please remember to contact Affiance Financial if there are any changes in your personal/financial situation or investment objectives.