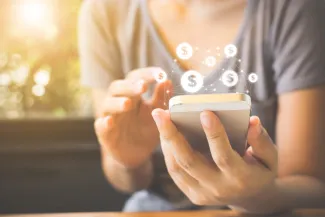 Budgeting In the Palm of Your Hand
With the world of financial technology (FinTech) ever changing, the landscape for how someone keeps a budget has never been more robust. In fact, some say it can be done in the palm of your hand... While some choose to stick with the traditional, manual method of tracking income and expenses — Yes, I'm talking about you, Excel — the vast number of mobile apps available make budgeting more accessible and automated than ever.
Below is a list of four mobile- and online-based budgeting apps worth checking out.
Mint — Easily the most recognized budgeting app out there. Mint is owned by Intuit, the same company that owns Quickbooks. Mint allows you to link your bank accounts, credit cards, and investment accounts to the software so that everything can be tracked in one place. There are a number of features that make Mint stand out. One of my personal favorites is the alerts. Once you set your preferences, if you go over budget in a particular category, you get notified. This is a helpful nudge to keep you in line with your budget.
Mvelopes — As the name implies, this app is based on the tried-and-true strategy of using envelopes to budget cash. When you set up your preferences, you assign a budget to each envelope. Once the envelope is empty, you have to wait until the next month for it to reset. If you spend less than you budgeted in an area, the money rolls over to the next month. But if you overspend, the amount in your envelope will be less the following month. Mvelopes is free for first month, but costs $3.99 a month after that.
Goodbudget — Goodbudget also uses the envelope concept, but takes it a step further by syncing with a spouse. This is helpful for couples who are just starting to work on a budget together, allowing them to better understand each other's budgeting processes. At the end of the month, you will have a good idea as to where you saved and where you may need to reign in your spending. The basic version of Goodbudget is free, or you can upgrade to a paid subscription with more features.
Simple — If you are looking for an all-in-one bank account and budgeting app, look no further. Simple combines active budgeting and a free bank account. You are able to track where your money is going and what you are spending too much on. Simple provides you with updates throughout the month to let you know if you are on or off track. I personally have friends that love the app, and the bank account.
This list represents only a few of the most-popular budgeting apps available. Regardless of how you keep your budget, it is important to make sure you work with a trusted partner to create a financial plan. A solid budget can help give you and your advisor a better understanding of your financial location, and help keep you on track to reaching your financial destination.
Sources:
www.thebalance.com/best-budgeting-apps-4159414
www.gottabemobile.com/best-budget-apps/?gbmsl=7
The views represented are not meant to be construed as advice. Moreover, no client or prospective client should assume that this content serves as the receipt of, or a substitute for, personalized advice from Affiance Financial, or from any other professional. Affiance Financial is neither an attorney nor an accountant, and no portion of this content should be interpreted as legal, accounting or tax advice.