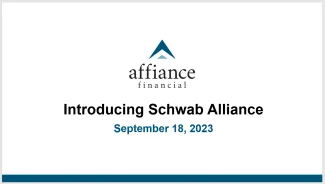 Recording: Introducing Schwab Alliance Webinar
Event recording from September 18, 2023.
Partner and Director of Client Support, Megan Pace, introduces the Schwab Alliance platform and shares several important features. 
What's included:
Supporting your access to Schwab Alliance
Navigating you through settings
Reviewing content of documents
This video is for general educational purposes only and should not be considered an individual recommendation. All images are for illustrative purposes only and may be abbreviated. Schwab Advisor Services serves independent investment advisers and includes custody, trading, and support services of Schwab. Affiance Financial is not owned by or affiliated with Schwab.