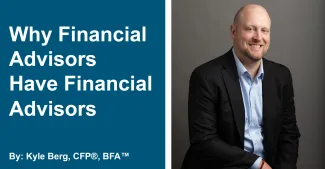 Why Financial Advisors Have Financial Advisors
I was working with a client recently who asked me, "So, do you do your own financial planning, or do you use an advisor yourself?"
This question immediately brought me back to my job as a club manager at a gym. We were a large chain with personal trainers, and while you might assume that personal trainers know exactly what to do to achieve their fitness goals, they often work other personal trainers. The same goes for financial advisors.
I do a lot of my own financial planning, simply because I know what my family's goals and objectives are and how to build a plan to get us where we want to go. But I also work with the other advisors at our firm. Each advisor at Affiance has a different background, so they often challenge my way of thinking about investments and some of the more complex planning situations.
One reason I look for help from another financial advisor is quite simple – Accountability. When you set a goal for yourself it is all too easy to shortchange yourself and think "well, that's close enough." Or worse yet, to not do it at all (I'm looking at you, New Year's resolutions!). Knowing that an advisor will follow up with me about something I said I'd do helps ensure that it actually gets done.
The second reason is more personal. Working with an advisor ensures that someone other than me knows my family's estate plan. If I am no longer around, my wife knows that all she has to do is call Affiance Financial, and an advisor will be able to walk her through the process, exactly how we planned it. Knowing that gives me incredible piece of mind.
Finally, the last reason I use a financial advisor is to ensure that I don't ever completely abandon my plan. Just like you, there are times when things happen in the world, the economy, or the markets that make me consider a drastic change that may not be in my best interest in the long run. This year has been a prime example. But that is where a financial advisor will step in, tell me to pump the breaks, and help me take a closer look at the issue and my emotions. They might help me see things from a different angle or remember to look at the bigger picture. Only then do I start to think about next steps, which could very well be not taking any steps at all. Because the one thing we know for sure is the certainty of uncertainty. And the best thing we can do for ourselves during uncertain times is not try to go at it alone, but have someone there to help along the way.