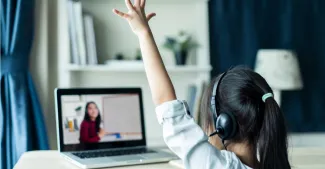 Childcare Costs and Schooling During the COVID-19 Pandemic
With school starting up for those with children, it brings me back to my first days of school – excited to see my friends who I hadn't seen all summer, along with the nervous anticipation of getting to experience new sports teams, teachers, and being another year older in school. With the current global pandemic, this year looks vastly different than others. My daughter started first grade with all the same excitement and nervous anticipation, but with a schedule of four half-days per week and her iPad in tow.
The 2020 school year is off and running, with a vast variety of schooling options from elementary through college. Whether it is distant, hybrid, modified-hybrid, or in-person learning, the uncertain schooling landscape has brought some good conversations with my clients. Most of the questions center on adjusting their budget to pay for additional childcare, or even enrolling their school-age children in private school, which may not have been a part of their original financial plan. Incurring these additional costs, with a budget that is already set can be overwhelming. This is where the personal part of personal financial planning comes into play. While we can create all the spreadsheets and forecast all kinds of scenarios, there are still events that come around that remind us of the certainty of uncertainty. When these events come around, it is important to discuss your personal situation with your financial advisor.
Today, I'd like to offer some information to consider while evaluating your options. If you have read my prior posts, you might have noticed that I like to refer back to previous writings to illustrate how intertwined different financial planning topics are. In this case, I want to remind you to consider the bigger picture, remember your own personal financial goals, and pay yourself first. For those of us with children, this is hard. On many occasions I have heard clients consider reducing retirement savings in order to pay for some child-related cost. But, this is not recommended, as abandoning your savings and investment strategy could have larger effects down the road. Instead, your first line of defense should be trying to repurpose your current cash flow rather than accessing any long-term buckets of funds. This could come from your savings account or other cash on hand, but if it comes down to it you may need to take a good hard look at your personal budget and see where you can cut back. Maybe it is cutting the cord and going without cable television, or possibly revisiting the discretionary spending in your budget on items like eating out, which may be happening naturally during the pandemic anyway.
For those of you who have been saving to a 529 plan to pay for college, there has recently been some changes with regards to the flexibility of those funds. While previously only allowed to be used for college, today 529 plans allow for up to a $10,000 distribution annually to pay for private schooling.
Another option is that if you have a Roth IRA, you have access to the principal (what you have contributed) penalty- and tax-free. This is regardless of age, as long as you do not go into the growth of the account. While this is technically taking away from a long-term bucket, these after-tax accounts are less-likely to be a primary savings tool for Financial Independence. Talk to your advisor about whether your financial plan allows for some flexibility with your Roth savings.   
While there may not be a perfect strategy for such an imperfect situation, understanding what assets you have, as well as how they can be used, is important. If you are a parent facing new or uncertain childcare or school costs, please do not hesitate to reach out to your Affiance Financial advisor.
There can be no assurance that the content made reference to directly or indirectly in this blog post will be suitable for your individual situation, or prove successful. Due to various factors, including changing conditions and/or applicable laws, the content is only reflective of current opinions or positions and is subject to change at any time and without notice. Moreover, you should not assume that any information contained in this blog post serves as the receipt of, or as a substitute for, personalized investment advice from Affiance Financial. Please remember to contact Affiance Financial if there are any changes in your personal/financial situation or investment objectives.