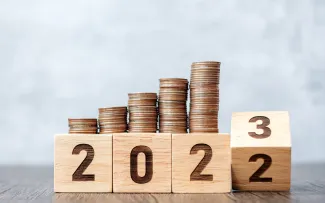 Financial Planning Changes for 2023
With 2022 in the rearview, we look forward to 2023. As you can imagine, with a new year comes changes to some key financial planning items. Below is a table showing some of the key adjustments for the 2023 tax year.
As you can see, there are some small changes to the various limits, which are pretty typical year over year. One change that you should take notice of, is that there is a $2,000 increase to the contribution limit for 401(k), 403(b), or 457 plans, as well as a $1,000 increase in catch up contribution, which means that an individual over the age of 50 is able to put away $30,000 annually.
As we move into 2023, we will incorporate these changes into our financial planning work, and keep you updated of any other changes that come about. If you have specific questions regarding how these changes could affect your personal financial plan, please do not hesitate to reach out today.
The Financial Planning Changes for 2023 Blog Post is being provided for informational purposes only. Moreover, no client or prospective client should assume that this content serves as the receipt of, or a substitute for, personalized advice from Affiance Financial, or from any other professional. In addition, this content is not intended to provide specific tax advice. For specific tax advice, the services of an accountant should be sought.