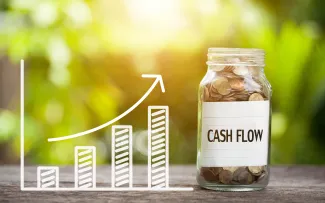 Increased Cash Flow? Four Ways to Put Extra Money to Work.
A common question we get from clients is what to do with increased cash flow. Maybe you have received a promotion at work and are suddenly making more money, or maybe you have received an inheritance or gift. Sure, you can go and spend it on the next shiny thing you see, but there are more practical "smart money" ways to make your cash work for you.
Manage Debt
When you have new or increased cash flow, one of the first things that you should consider is your current debt burden. I am not talking about mortgages and car loans, but rather any pesky credit card or line of credit payments. Generally, the interest rates on those accounts far exceed the interest rates on larger loans. It is also likely that they exceed any expected rate of return on a diversified and risk-minded portfolio. So, they should be taken care of as soon as possible.
Strengthen Your Emergency Reserves
Once your debt is taken care of, it is important to reassess your emergency reserves. It is recommended to keep three to six months of expenses available in cash. If this was previously unattainable, or if you were on the low end of the recommendation, now is the time to ensure this important financial fundamental is in order.
Save for Retirement
Now that you have taken care of your debt and emergency reserves, you can look at different strategies for saving and investing the additional cash. The first thing to consider is increasing your retirement savings through your employer-sponsored plan. The current limit for contributing to an employer-sponsored plan, such as a 401(k), is $19,500 if you are under age 50 and $26,000 if you are over age 50. This is a good place to start because the money will come out of your paycheck prior to hitting your bank account. In addition to the tax benefits of saving in an employer-sponsored retirement plan, it will help you avoid feeling like the extra money is "burning a hole in your pocket."
If you do not have access to an employer-sponsored retirement plan, find out if you meet the requirements to make an IRA contribution. The limits are lower than what can be put into an employer-sponsored plan, $6,000 if you are under age 50 and $7,000 if you are over age 50. But, saving for retirement earlier and more often will allow for more flexibility later in life.
Spend for Your Soul
Finally, if all of the items above are taken care of, you might consider increasing your budget for experiences, gifting money to a loved one, or donating to a charity. Based on years of talking to clients about their spending, we understand that putting your new or increased cash flow to use in one of these ways is likely to have a longer-term positive effect than buying a luxury item. Just remember, if you are planning to give to an individual or charity there are tax benefits, and rules, to consider. Discuss your unique situation with your Financial Planner.
Having an increase in cash flow is exciting. It's tempting, and far too easy, to spend new money as soon as it comes your way. But before you do, consider these ideas for putting your money to work for you instead. Your future self will thank you. If you'd like help determining what makes the most sense for your personal financial plan, reach out to your Affiance Financial advisor today. We can help guide you through the decision making process together.
There can be no assurance that the content made reference to directly or indirectly in this blog post will be suitable for your individual situation, or prove successful. Due to various factors, including changing conditions and/or applicable laws, the content is only reflective of current opinions or positions and is subject to change at any time and without notice. Moreover, you should not assume that any information contained in this blog post serves as the receipt of, or as a substitute for, personalized investment advice from Affiance Financial. Please remember to contact Affiance Financial if there are any changes in your personal/financial situation or investment objectives.