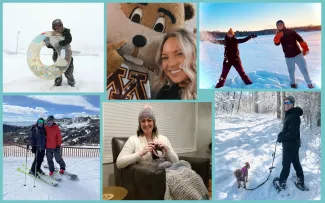 Riding Out Winter in Minnesota
Almost winter, winter, still winter, and construction; the four real seasons of Minnesota. Our team shares their favorite winter pastimes in the Bold North!
Brendan Halleron, CFP®, AIF®, BFA™
The only way to ride out the winter is to get out of town…to somewhere else with more snow! Every year I try to escape west to Colorado or Utah for downhill skiing in the mountains. The beauty, landscape, and sport always make it a fun, but exhausting long weekend away.
Marcia Zappa
My knitting goes into overdrive during the winter. I've already finished three hats since the weather turned cold in November!
Kyle Berg, CFP®, BFA™
The best part of winter is going sledding and building snow forts with the kids.  
Keely Matis
I love the days when we get a massive amount of snow. Tubing during a blizzard brings me endless amounts of joy!
Steve Lear, ChFC, CLU, BFA™
My plan this winter is to play indoor pickleball. I also enjoy watching all four seasons of Star Trek Enterprise. I'm such a nerd… I know :)
Marc Usem
Winter is best spent outdoors – skiing, skating, snowshoeing, hiking, and enjoying the beautiful scenery. Skating at Centennial Lakes Park and visiting frozen Gooseberry Falls are favorites!
Megan Pace
I look forward to date night with ice skating at the Depot!
Eric Unger    
I think Minnesota is an exceptional place for outdoor activities in the winter. Its home to thousands of miles of cross-country skiing and snowshoeing trails. My family and I enjoy the Elm Creek Park Reserve in Maple Grove the most.
Nichole Tessier
I try to attend as many games as I can – Gopher Hockey, Minnesota Wild, and the MN High School Hockey tournament :)
Chris Johnson
During the winter I enjoy skiing at as many different hills as possible, spending quality time with my family during the holiday season, and ringing in the New Year at the cabin!