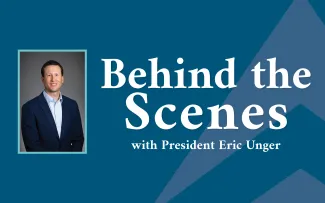 Behind the Scenes with President Eric Unger: Winter 2022
When I first started in the industry, there seemed to be some doubt surrounding young planners. Can a 25-year-old really manage my life savings? In the last few years as I have entered my 40s, I believe there has been a shift. It now seems that people are asking for younger advisors, or looking for a team of advisors from different generations. Perhaps this change has been the result of some often-reported numbers on an aging advisor population. According to a J.D. Power study, the average age of a financial advisor is about 55 years old, with about one-fifth of industry professionals being 65 or older. Over the next 10 years, Cerulli Associates estimates that more than 111,500 advisors will retire, which represents more than one-third of the workforce. For many seeking financial advice, this transition will occur just as their need for planning is increasing.
With multiple advisor generations at Affiance, your succession plan is built in: Some firms believe that an advisory "team" is one advisor supported by administrative staff. While this approach can provide leverage for an advisor, it falls short of the many benefits you receive from a true advisory team. At Affiance, we field a team of advisors from different generations, many of whom are CFP® professionals. This team approach creates a strong foundation for the future. Having an advisory team behind you builds in contingencies for unexpected unavailability or the eventual winding down of an advisor.
Our advisor team was founded by partners Andy Fishman and Steve Lear. Both love what they do and – fortunately for all of us – have a passion for providing financial planning for as long as they are able. Leading the way for our next generation of advisors are partners and CFP® professionals, Dan Lear and Kyle Berg, who have already proven their dedication over eight years with Affiance. Beyond this group, we have an additional team of advisors committed to growing their skills and delivering an exceptional financial planning service today and into the future.
Advisors
What does this mean for you? Our focus on building a true advisor team that includes multiple generations of advisors means that you can trust that Affiance will not only help you get to financial independence, but also through whatever comes next. Our role will not be just about money, but about building a lasting relationship for all the stages of your life.
Thank you for the trust you place in Affiance Financial.   
Respectfully, 
Eric Unger, Partner, President, Chief Compliance Officer